Until quite recently I was the Storytime Lady at our library ("Storytime Goddess" never really caught on). It was a great job in many ways. I was paid to read books to children!
I always loved Bedtime Storytime (cue dreamlike sound track):
Children in pajamas
Snuggled in blankets
Enjoying milk and cookies
Listening intently to all my books.
It sounds so perfect! However, with my largest class of 25 crazy, fun children. Few kids wore their pajamas. No one really brought pillows/blankets. The milk usually spilled and, apparently, no one had taught their kids not to cry over that business. (Things rarely turn out as great as I picture them in my mind!)
I would like to tell you about a few of my favorite books that have a bedtime theme! Hope there is one here that you can read to someone that needs a bedtime story.
I think I could read rhyming books all day. My favorite line, and I do use this on my teen, is:
"Please stop all this llama drama and be patient for your mama."
This next book is about a child that wouldn't go to bed without "just one more story." So, the author rewrites many children's stories to be much shorter, so that more can be read in a less time!
One of the stories included is Little Red Riding Hood. It starts out like this:
Small girl,
Red hood,
Big wolf,
In the woods.
You get the idea. It is a fun book to read to an older kid who might get the humor. It is hilarious, especially if you are able to read it really fast!


Now, this last book is definitely inappropriate to read to children. But it is a great read for exhausted parents who are dealing with children who don't feel the need to go to sleep. You know, the parents that could probably use a splash of wine, but instead get a splash of whine...or maybe way more than a splash! (Might be a great gift idea for just the right person... along with a bottle of wine!)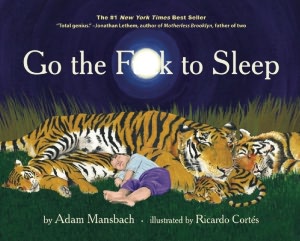 The cats nestle close to their kittens now,
The lambs have laid down with the sheep
You're cozy and warm in your bed, my dear
Please go the f**k to sleep.
Even if you don't have kids, there are probably roommates or neighbors that you wish you could tell to go to sleep!
There are sooo many great bedtime stories having to do with going to bed. Do you have a favorite?