Thought I would link up with these Tuesday folks again: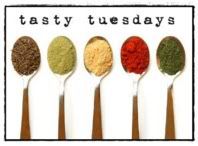 Well, the above button worked before.... it even worked when I previewed this post.... guess you should just go to
33 Shades of Green
to view this link up.
Yesterday I took my dad to physical therapy at the hospital... it is 20 minutes where I just sit in the waiting room.... so nice.. . some days it is the only peace and quiet I think I get.
I looked at the magazines there and I saw a Woman's Day. Haven't looked at one of those in ages... found this recipe for Cheesy Stuffed Peppers with White Beans:
I remembered that I had four yellow peppers in the fridge and I needed to use them up before I head out of town later this week. Also, the Stern German was supposed to be meeting with a dietician after work today... thought I should be able to show that I can whip up a tasty, low-fat side dish (meal?)!
Nope wouldn't count as a meal... no meat. I did think of adding some grilled chicken to the mixture, but decided they looked perfect without that.
Since I take my dad to Walmart NEARLY EVERY DAY... I thought that I would pick up the spinach and white beans that I needed to make these peppers.
Click
here
for the Woman's Day's recipe. This is how mine looked:
Thought they turned out pretty good!
The recipe told me to heat up my broiler. I only use it on the low setting... and I still pretty much burn everything. The key is leaving the oven door open a bit... apparently.
I cut the peppers in half, cleaned 'em up, and broiled them on both sides with a little oil and salt/pepper. (Scraping them out without pulling off the stem part was a pain...)
I followed the directions for the amount of broiling time. I know... hard to believe.
Heated up my pan. Was only going to add half the onion, but thought I would go ahead and follow the recipe! Novel concept, I know.
I sauteed the onion and was about to add the garlic, but remembered I had a zucchini I needed to use up. I was really close to following this recipe.
This is how it usually goes. I really do intend to follow a recipe.. but my ingredients just don't pan out... haha...
So, I added some diced zucchini and cooked it for about 3-4 minutes then added the garlic like the recipe said.
onions, zucchini, garlic
Next I added the package of spinach. It sure looked like a lot of spinach... The recipe said to take the stems off the spinach... didn't take time to do that... it was fine.
That was a lot of spinach to add!
But it cooks down to nothing.
Turned off the heat. Added the rinsed and drained beans... seriously, who knew cannellini beans were so big. Probably should have had smaller ones, but it turned out okay. Added the lemon juice.
Added beans and juice from half a lemon.
Added the cheese... but I didn't have mozzarella. I used a little cheddar with the Parmesan cheese. Filled the peppers.
Sprinkled a little extra Parmesan on top. Baked until the cheese was melty.
This was the meal...
I had extra cheesy potatoes I had thawed out and baked and I cooked ribs in the crock pot. Such a BIG dinner... the Stern German was happy... there was real meat.... and lots of it!
The Angsty Teen was happy... carbs! Okay... neither of them were probably what YOU would describe as happy... but I have low expectations of happy.
Oh, and Kati at
Incorporating Color
has a fantastic looking recipe for Baked Polenta with Chicken Sausage and Mushrooms on her blog today. Yum.
Let me know if you have been cooking up something good!