I'm home. Brought the Angsty Teen with me. So that's too bad... just kidding...
No, there wasn't a Colonial woman on the wing... I looked.
The Angst Teen didn't lip off a whole lot on the trip... except for right when we arrived in DC. We were very hot and sweaty and having trouble finding the shuttle to the hotel...
She said, "
This
is going to be a fun trip. Wish I was home." (Shoulda brought my flask...)
I (actually, quite sweetly) replied, "I'd be happy to book you a flight home tomorrow. You'd just have to pay for the flight."
WHAM! That girl changed gears so fast I thought she was gonna hurt herself. I guess Money is her love language... pretty sure it isn't Quality Time... at least not with her family!
Annoyed
So all the way home... while we were getting packed up, to the airport, on the plane, switching planes, and driving back home all I heard was, "I'm so tired." and "I just want to be home to veg out." These were the typical comments of the day. (Again, a flask would of come in handy here...)
Exhausted
Once we were home the Angst Teen was off to marching band practice for over three hours (that was actually brilliant planning on my part).
She came home to let me know that she was going to go run/walk/bike around the lake at
5:45 a.m.
with her friends. (Didn't need the flask... just my box of Crisp White....)
Huh. I thought she was so tired that she could barely be kind... but what do I know? Clearly, not much.
I really, really wanted to say, "Hell to the no... get to bed and sleep in... you're tired and ornery." But, I didn't say that... because I am (slightly) smarter than I look. (Hence, the box of chilled Crisp White...)
Instead I said, "Figure out what you can handle. I'd love to see you get lots of rest after this trip because you seemed really tired today, but do what works for you."
The Angsty Teen loves being in charge of her life.,, of anything,,, and everything, really...

So she had four of her friends meet up to bike around the lake and then they went to someone else's house for a while.
She got home at 8:15 this morning and she was so happy... Why? Because she loves being in charge... of anything... and everything... It makes her happy...
When she got home she even picked up some dog poop without being asked...
She also announced that she was going to clean her room and bathroom later in the day...
(I was thinking a trip to Urgent Care was in order... clearly she had whacked her head on something... or she had found my box of Crisp White...)
Maybe I am a wimp, maybe I choose my battles, or maybe I am smarter than I look...
yeah... probably not.... but smart enough to have a chilled box of Crisp White handy.
Linking up with: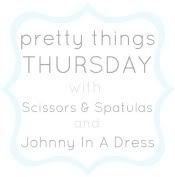 I promise to actually make something other than a semi-happy Angsty Teen for "Pretty Things Thursday" next week!