Linking up with these guys and hoping for a Tasty Tuesday!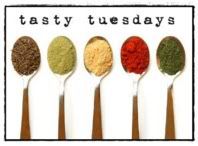 This button didn't work last week either... but it's for a blog called
33 Shades of Green
that has a recipe link up.
When I got to camp my friend told me we had an abundance of M&Ms on hand. I thought that would be an easy enough problem to solve.
The next morning as I was checking out a few different blogs, I came across this recipe for
Chewy M&M Sugar Cookies
. Click on that link to get the recipe.
They looked delicious and I decided to make the cookies. They had cream cheese in them... yum. I thought of just making a huge batch of them (so I could use up the whole block of cream cheese right away), because how bad could something with cream cheese, sugar, and chocolate turn out? But just to be safe I decided to just make one recipe to try them.
I actually followed the recipe, too!
Cream cheese cut into pieces sitting in the sugar...
Mixing it together with the melted butter...
Started mixing in the M&Ms before the dough was completely mixed together...
Ta-dah!
I guess I didn't follow the recipe
exactly
... but I was really close!
I didn't have unsalted butter, so I used regular butter and added a titch less salt.
I didn't see the part about having my egg at room temperature... oops.
I used half of the amount of vanilla and added almond extract for the rest.
I put the M&Ms on top once the cookies came out of the oven as the blogger suggested to keep the candies from cracking. The cookies turned out bigger than I thought they would be! And I got about 27 of them from one recipe instead of 24... maybe I taste-tested less than the other people who made these cookies.. no, I probably didn't.
So focused...
When the Angsty Teen and her friend came to the kitchen I decided to have them mix up the rest of the dough. I brought the measured ingredients to them and they did the mixing.
They had fun!
The tricky part was that there was enough cream cheese left from the block for three more recipes. In hindsight I should have had one of the girls mix up two recipes and the other do one.
I thought they could each do 1 1/2 recipes. I am not a complete idiot (well, by my standards) but remembering to increase each ingredient for each girl by an additional 50% was tricky...
But we did it... the whole time listening to The Biebs and Call Me Maybe... oh, and One Direction...
So not angsty... maybe The Biebs has magical powers...
The cookies were fantastic and they froze and thawed out again beautifully. Try this recipe!