Heading back home today after our trip... I would call it a vacation, but it wasn't really. I think of a vacation as getting to do what I want... and that wasn't really the case. I did get to do a few of the things I wanted to... I think.... wait...yeah, I did... but... not a lot of things.
Even though the Angsty Teen was pretty darn right pleasant for a lot of the trip... and although I used this picture in my post the other day... she looked at me in that tone of voice quite often during our trip.
This just might be the "Really, mom?" face...
Today I am doing my Tasty Tuesday link up... and I haven't cooked anything all week!
I have used this recipe several times throughout the week:
Take one angst-ridden teen
Add a few portions of snacks of her choosing
Toss in several bottles of liquids... don't want anyone getting dehydrated on my watch... the Stern German would be so proud of me...
Oh, and throw a few liquids in the parent, too...
Mix with a couple handfuls of letting her decide on the activity of her choosing...
All of these things help a lot and this is a great recipe for getting a slightly less-Angsty Teen!
Yesterday was a pretty good food day for us food-wise in DC. So I'm going to tell you about that:
I had purchased a deal from
Living Social
for a restaurant called Redline. It was right in Chinatown. The deal was for $30 worth of food for $15. This is where we had lunch.
When we walked up to the restaurant... I wasn't sure it was open.
The patio was empty... the windows were dark....
The front doors were unlocked... so that was encouraging... but there wasn't anyone around... there was a sign that we needed to go up the dark. sketchy-looking stairway* to find the hostess.
(My octogenarian mother would have been frightened to death... you know, evil in the big city and all...and she wouldn't have been able to get up the flight of stairs, so she would've been scared and hungry... oh, and the bathrooms were upstairs... so she probably would've wet her pants, too.)
Angsty Teen's BBQ pork sandwich w/slaw and tots...
I had a pita tuna sandwich... it wasn't Chicken of the Sea... (Hey, Britney... that means fish.) It was grilled Ahi tuna... with a spicy sauce and peppery greens along with Parmesan fries.... Delicious!
Basically lunch was great... but I am glad that it didn't actually cost me $30... wouldn't have been happy about that... but it was definitely worth $15.
After lunch we headed back out to Georgetown. We were out their the day before... and we found Georgetown Cupcakes... you know, the one from the TLC show? But the line was horrendously long.
So we decided to get on our way to our Arlington National Cemetery tour before the cemetery closed and to come back the next day for a cupcake.
The line was less than half as long yesterday!
Yep, we were there!
Angsty Teen loving her red velvet cupcake!
My chocolate cupcake with coconut frosting!
It really was delicious.
Such a beautiful smile for an Angsty Teen
Then, to finish out the afternoon I bought the child some Ben & Jerry's... so expensive, but really? If it keeps her happy... so worth it. Because, you know what they say... if the Angsty Teen ain't happy... ain't nobody happy!
Another delicious treat
Linking up with these blogs: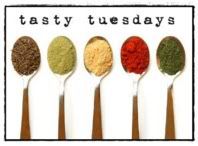 *Not an exact quote.