Last week I made this for supper:
The recipe said it was a quick pasta dish... it was not quick, but it was delicious. I will let you in on the recipe and the details of this one another time!
Today I am going to tell you about a
Frosty Paws
recipe(click on that name for the recipe). This was from a blog called:
All the Small Stuff
. I had shown this recipe to the Angsty Teen a while ago... she loves her dog. There is something about an angst-ridden teen and their dog.
Cheesy pic... but she loves it!
The time spent the Angsty Teen spends with her dog is:
good
(mostly because they are both in the garage and not in the house... near me),
calming
(mostly because they are both in the garage and not in the house... near me), and
refreshing to the soul (probably because I can pound down a quick glass of wine while they are both in the garage and not in the house...near me)...oh, and time with her dog is good, calming, and refreshing to the soul for the Angsty Teen, too!
Anyway, the Angsty Teen thought making these for her dog would be a great idea.
I hemmed and hawed and acted like I really had to think about it (a lot like I do when the Angsty Teen asks to spend the night at a friend's house... really? Would I ever turn that down?) But I do want credit for saying yes when she thought the answer was gonna be a no!
So in spite of the fact that she was going to make treats in my kitchen for the dog that I tolerate slightly.. right after she just lipped off to her mother... Actually, I don't really remember if she had just lipped off or not... But really? The odds of this just happening are quite high... I agreed to the project.
We pretty much followed the recipe... except for:
Honey... that dog does not need honey to sweeten his plain yogurt.. it was kind of expensive.. so I just bought cheap vanilla yogurt instead.
Banana baby food? No. I just had the girl smash up a real banana and put it in the recipe.
Vanilla yogurt, peanut butter, smashed banana
Taste-testing the mixture
All mixed up
The recipe showed some cute little Dixie bathroom cups... but I wasn't going to buy a box of 300 of those things. So, we just cut down the sides of some styrofoam cups I had in the basement.
Putting in the Milk Bone holders...
Milk Bones always make me think of a Cheers quote from Norm.. "It's a dog eat dog world out there and I'm wearing Milk Bone underwear!" Hahaha....
We put them in the freezer and the next day...
Licking and not snarfing it down was a foreign concept
He loves it... what's not to love?
We ended up with about seven Pupsicles! (I think that is a cute name for these little treats!) An extra-added bonus about this treat is that after needing to document the first Pupsicle treat with pictures, I do not need to be a part of this little treat sharing time...more time for my soul to be refreshed...
Linking up with these guys today: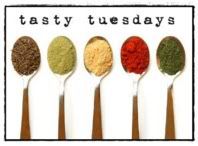 Hope your Tuesday is tasty!