Linking up with these bloggers today: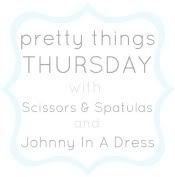 Hey, if you are visiting my blog from Johhny in a Dress... my recipe for today didn't happen because I'm not home... but a couple of days ago I made this Farmer's Market Pappardelle:
Well... I came to visit Kati... in Nebraska.... was supposed to be home by now... but after being here for a day and a half I decided we needed to solve her internet problem. So here I am for another night... here is a brief recap of our time:
Half price appetizers during happy hour!
Since Kati didn't have any internet we had to write our blog posts for yesterday from here. This made me laugh:
My Naked Nacho dip (the chips come plain) and Kati's:
Kati's nachos:
Yep, the girl was hungry!!!
Just was we were getting ready to leave Lazlo's.. the booth behind Kati filled up...
So creepy...
We spent a lot of time working in Kati's classroom the past day and a half... but I'm not allowed to show you any of her great bulletin boards or wonderful decorating ideas until she blogs about them.
However today was really exciting for me!
We went to the public library... they have one of these:
Do you know what this is?
This is a die cut machine. The public library near her school has one of these with hundreds upon hundreds of dies you can use to cut paper out into cool shapes... really fast!
I have never used one of these... the library where I worked didn't have any cool stuff like this... Kati let me try it... we had some cool people... not cool equipment.
Concentrating...
I was SO excited!!!!!!!
Yay... it worked!!!!
Back to The Great Internet Debacle of 2012... I went and talked to her landlord about the whole internet situation... that didn't help... then we called the provider... we ended up getting her internet that works!!!
I called the Stern German and he thought we could handle the set up. So the two of us went and got the modem and router and set it up (that saved a $70 fee and got her internet a week earlier... yay, us!).
It feels good to be back in the world of internet goodness. Now I have to go back to my life... dang.