I've got a few new things to tell you about:
1. New linkup
This is a new linkup I found from
Leslyn's Lovely Life
blog. In theory it would be a great way to share any new music you have found. Unfortunately I don't even know how to find new music. I will work on that for next week's linkup.
I think I will really enjoy checking out the music that others put on their blogs for the linkup.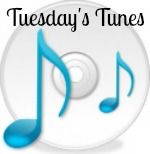 This week I will post a video from a Minnesota band that I posted months ago. The drummer is from my town. His brother graduated with Kati... so that makes her almost famous... haha.
I couldn't find any video of the band actually performing this song... and I'm not really a big country music fan, but... I kind of like this song.
2. New decision... again
When I woke up this morning I remembered that last night I decided I was going to do some sort of workout when I got back from driving the Angsty Teen to school this morning.
So I put on a sports bra and workout clothes before I left the house... sometimes just getting a sports bra on is a workout... but, really.
I put my UGGS on my bare feet and drove the child to school. When I got home I went up and found a pair of socks in my room (pretty sure 99.4% of my socks are in the Angsty Teen's dirty clothes pile in her room) and grabbed my tennies from the back door and headed down to the basement.
I did remember to take a pair of reading glasses down with me... last week I had to abort the workout plan because I couldn't read anything on any of the remotes and I decided that by the time I had gotten that far along in the plan I had already sweat enough.
The week before that when I tried to play a Just Dance DVD the controller bar fell off the top of the tv into the great Abyss of a Thousand Wires... and I couldn't get it out. Sometimes you gotta know when to walk away...
I digress. I found the remote for the tv... sometimes I'm pretty impressed with myself that I can even find that sucker let alone operate it...
The tv was playing stuff from the Angsty Teen's Wii. "Don't panic," I told myself. "Think, think, think... you know how to get out of this..." Sometimes encouragement is crucial.
I found the button on the tv remote to switch from AUX to TV and got it turned over. At that point I nearly pulled a muscle patting myself on the back... so dang proud.
Since I had glasses down there I was able to:
find a good DVD workout to do
find the DVD player remote (also not an easy task)
turn the DVD player on
open the DVD player
get the DVD in straight
close the DVD player
find the play button
Things were going along quite well... but something wasn't quite right. The dvd wasn't showing.
Then I remembered that there were those three cables on the back of the tv that go to the Wii that need to be unplugged... and there were three identical cables from the dvd player that needed to be plugged into those same openings. Damn. I hate those cables... especially if they fall behind the tv cabinet...
It is always helpful for me at this point to say aloud the color pattern from nearest to farthest away... such as "Red, yellow, empty spot, empty spot, white." If I say the pattern outloud twice I tend to be able to get the new cables plugged into the right spots... even with glasses on it is kind of dark behind there.
Maybe along with my socks and tennies and glasses I need to bring down a flashlight?
Okay. Got all that done.
Time to put on my shoes and socks. I noticed that the Angsty Teen had a tennis shoe in the basement... in the middle of the room, no less... but only one. Weird... oh well, sometimes I just don't get that kid.
Anyway I got my socks on and grabbed my tennis shoes... but then I realized that I only had one shoe down there. Apparently I had grabbed one of the Angsty Teen's tennies. Except only mine can really be called tennies... hers should be called twelvies... in my defense it is kind of darkish by the back door... and I didn't actually have the glasses on at that point.
Not identical in any way, shape, or size!
Back up the stairs to the back door to replace her shoe for mine. Back down the stairs. I finally got my shoes on.
I was definitely on a roll. Readjusted my ponytail... got the kettlebell... It was a good thing that the kettlebell was just sitting out by the workout DVDs or I might have spent forever just looking for that thing. After I dusted it off and put on workout gloves... I started the DVD.
The ceiling is low and the tv is close... gotta be very careful.
By this time I was pretty proud of myself... and pretty winded. Just kidding... I was hardly breaking a sweat.
I did the whole warm-up portion of the workout AND I started Workout #1. Then I looked at the clock... and decided that due to time constraints and out-of-shapedness constraints it was time to be done for the day.
3. New thing
Several months ago this great website called Shabby Apple asked me to consider becoming one of their affiliates. I kind of kept forgetting about it and never really checked into it.
I finally sat down yesterday and figured out part of the deal. Feel free to click on the links below to check out their clothes.
They have a lot of classic looks, some fun things, and they're the kind of clothes where you won't be constantly tugging at the necklines or hemlines every time you wear them.
There's a site wide sale going on... 20% off by using the code "Joyful Season."
Wow... kind of a long post. Thanks for stopping by! Hope your Tuesday is great.