It is time for me to link up with
Kati
and
Kate
for: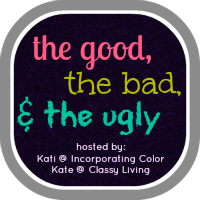 Isn't their new button cute?
This is when I get to tell you the good, the bad, and the ugly stuff from my weekend... here goes:
Friday-
The Good:
I was able to make salsa with my salsa-making friend... and I made the Spicy White Chili recipe from my cooking class on Wednesday... and there were margaritas!
This was a perfect combination!
The Bad:
There was a chili feed for the band that evening... so we had to limit ourselves on the margaritas...
The Ugly:
This batch's name was supposed to start with an "E"... so we came up with El Diablo. Apparently this means The Devil"... and, as luck would have it, we just couldn't get this batch hot enough to live up to its name...
Finally after adding about nearly 40 serrano peppers... it was close enough to be done.
So much salsa... about 26 pints...
The Good:
My parents actually decided to join us for the chili feed... & they stayed to hear the Angsty Teen in the pep band!
A fine time was had by all.
The Bad:
The Stern German was out of town... not that that's usually bad... sometimes that just means it's nice and quiet... but it would've been nice to have him there to help... because...
The Ugly:
It was cold and windy and trying to get two diabetic, geriatric, bariatric (one of whom is blind) people to the event and back home again in the wind, the cold, and the snow with two walkers and a 24 pound wheelchair was exhausting...
Saturday/Sunday-
The Good:
I started off my Saturday with a quiet house and an orange/cranberry cosmo... or two... maybe.
delicious
I made the Spicy White Chili recipe from my cooking class on Wednesday for my family.
The Stern German and the Angsty Teen really liked it!
And, I made Shrimp Risotto on Sunday night... perfect for a cold night... plus I got to sip wine for the whole hour I stirred it!
Perfect with a glass of Riesling...
The Bad:
Stirring the Spicy White Chili with a PLASTIC spoon scratched my new cookware.... What?
Not sure what to do... makes me unhappy...
The Ugly:
On Sunday the Angsty Teen had a volleyball tournament an hour away... and the weather was bad.
My door handle as we were heading home.
The truck's antenna after we drove home.
They played extremely well... and we arrived home safely... and the good news in this:
At 9:00 pm I received a phone call that there is a two hour late start on Monday! The best part about that is there isn't any jazz band... so instead of the Angsty Teen needing to leave for school by 6:35... we will leave at 9:35! YAY!
Have a great day... with any luck, I will be able to sleep in... I'm so excited about that!