I'm typing this post on my
new computer
and I'm linking up with
Kati
and
Kate
to bring you: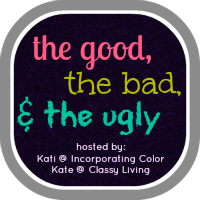 Life is good again.
I have kind of realized that I need to make things work out well for me sometimes, instead of waiting to make everyone else happy and then hoping my stuff turns out okay...
To explain... on Friday I decided to leave a sleeping, sickly Angsty Teen at home and head up to the Mall of America. I would have gone earlier in the week, except she really wanted to come along and bring a friend and shop... so, I waited.... clearly, that didn't work out.
The Good:
Kati
, who is extremely wise and who was raised extremely well, suggested when I arrive at the MOA that I go get a glass of wine at a Happy Hour before I do anything else...
Such a good idea...
After the wine and app... I went to the Apple Store.
The salesman I had at the Apple Store was fantastic! He helped me find a great deal that worked well for me and he helped me walk out of the mall with the new computer a little later that night instead of waiting for a few days to get it.
Originally I was told that it would take a few days to do my data transfer... but when I told him how little data I had to transfer... (I am a pathetic computer user) and that I was hoping to take the new laptop out of town with me the next day.... he made it work for me!
The Bad:
I spent quite a bit of money... but I knew I would.
The Ugly:
I spent even more than I thought I would ... but I know it will be a great computer.
On Saturday the Angsty Teen and I left to visit Kati for a couple days...
The Good:
We used a Groupon for frozen yogurt at Peachwave in the Omaha area... It was delicious and I thought this picture on the wall was adorable...
Yeah... almost.
The Bad:
The frozen yogurt gave the Angsty Teen a stomach ache... and...
The Ugly:
I shared a small, not-so-great hotel room... (Don't ever go with a 2 1/2 star room in the Omaha area) with the Angsty Teen and her angry bowels... oh.... so much stench.... Not sure if I slept well, or if I just passed out from the smell... But, really.
On Sunday...
The Good:
I bought the $99 training classes with my computer. So Sunday morning, I went to the Apple Store in Omaha and went to a beginner's class. I only know enough to be dangerous... so this was a great place to start.
I might've known more than the other 'kids" in the class.. but I still learned a lot!
Kati met us at the hotel and we went to church with her... it was an
amazing
church. Didn't feel like we were there an hour and a half! Loved the music... and the preaching was excellent.
We shopped at Village Pointe...a great outdoor mall near Kati's apartment... Abe was there...
Celebrating Presidents Day...
Then we went to Kati's apartment and made delicious risotto while sipping wine... well, not the Angsty Teen... and we watched some Parks and Recreation episodes. It was a great night. We may or may not have stalked friends/acquaintances/relatives on Facebook and laughed a lot...
The Bad:
I got nothing...
The Ugly:
Nope, nothing. Everyone was responsible, respectful, and fun to be around. Okay, there was a little bit of gaseousness... but... all families have that... right?
So now it is Sunday night... The Angsty Teen is spending the night at Kati's and going to see her classroom in the morning...
I am all alone.... I love being alone.... even if it is a not-so-great hotel... I mean, it could be worse!
Being alone doesn't seem to happen very often... or often enough... but sometimes I just need a little bit of quiet.
I'll meet up with the Angsty Teen tomorrow around lunchtime and then we will drive home...
So for now, I'm soaking up a little bit of quiet... just me... and my computer... and a little popcorn... and a little Squirt with a little splash of happiness... very nice.
Shhhh! It's time to be quiet....
I'm going to stop talking/typing now...
Good night!