Since it's Monday, it's time for me to link up with
Kati
and
Kate
to tell you all about my weekend for: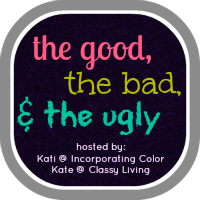 We had an extra long weekend with a late-start-turned-snow-day on Friday. I would say, all in all, it was a pretty good weekend...
Friday-
The Good:
We had a Snow Day!
The Bad:
I decided to do a home organizational product with the Angsty Teen.
The Ugly:
She isn't a very motivated person at times... and tends to be kind of whiny and ridiculous .... and is frustrating to work with if you are really trying to accomplish something.
The Good:
It was National Margarita Day!
The Bad:
The more I drank margaritas, the more fun the project was with the Angsty Teen.
The Ugly:
The Jose Cuervo bottle wasn't very full to start with... dang.
The Good:
I bought the Pitch Perfect CD last week... fun music.
The Bad:
I couldn't fine the DVD/CD opening on my new computer.
The Ugly:
BECAUSE THERE ISN'T ONE... WHAT?????
Saturday-
The Good:
The Stern German and I were able to go and watch his nephews wrestle.
The Bad:
It took up eleven hours of our day!
The Ugly:
So many sweaty high school boys sticking their opponents' faces in their stinky armpits/crotches. Kind of a disgusting sport.
Spraying mats after first few rounds...
Pretty sure they are spraying down Ringworm-B-Gone.
The Angsty Teen's cousin took 1st place and is going to State.
Also, see The Hulk t-shirt he has on? It belonged to the Stern German...
about 40 years ago...
Sunday-
The Good:
I made the second dessert for my stepson and my stepdaughter's husband for their Christmas gift. CHEESECAKE!
The Bad:
It kind of took all afternoon... I made plain ones w/cherry, blackberry, & blueberry topping and...
The Ugly:
These Mini Triple Chocolate Cheesecakes with Ganache are almost too rich... need to be served with ice, cold milk or a good strong cup of coffee!
These six little tasty cheesecakes are actually the g-free ones I made for Kati... shhh... don't tell her, it's a surprise. Next time I go to visit, I will take them to her. She may either eat them or just apply them directly to her buns and thighs... It's her call.
Hope you had a good weekend! What did you do?