This is one of my favorite days of the year! March 4th! Why? Because
it is the only day of the year that is a command
. We've celebrated this one at our house every year for over 20 years! So, Happy March 4th!
Also, if you know David Hartley Seymour, it is his birthday... but, you probably don't know him. He was a kid in my high school youth group.
I'm looking back over my weekend... and it was pretty good.
I'm linking up with
Kati
and
Kate
to bring you: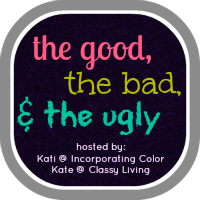 The Good:
We took a little road trip on Saturday and used the Stern German's GPS to guide us to our destinations.
The Bad:
The woman's voice on the GPS was kind of loud and annoying.
The Ugly:
I couldn't figure out how to turn the volume down... but ...
The Good:
The Stern German and I spent most of Saturday watching two different drumline competitions... in which the Angsty Teen was (supposed to be) performing.
The Bad:
The Angsty Teen's concussed state only allowed her to participate in one of the shows.
The Ugly:
I hurt my knee earlier in the week... both of the venues had lots of stairs to climb.... dang.
How did I hurt my knee? Well, doing nothing, originally, but then I pulled something going up the bleachers to the basketball game a few days ago... This getting old is tricky.
The Good:
The Angsty Teen has a list of exercises to do
five
times a day to help her concussed state.
The Bad:
I got to be the parent to help her get started doing them...
The Ugly
: She was ornery, disagreeable, whiney, and angsty... not a willing participant.
If the Stern German had to help her... it would've been ugly... one would've been removed by Social Services and one would've been jailed... hmmm... Why did I think that would've been a bad idea? Just kidding...

kind of.

She needed a card with a word on it taped to the wall about eight feet in front of her. When I asked her what word she wanted on the card, this is what she said:
No, she isn't grounded... she actually said "F-bomb." So, I obliged her.
She was easier to work with once she found out I would make her a sticker/dauber chart.
Really? A fifteen year old needs a sticker chart????
Also.... guess what? Concussed people don't drive cars... that might motivate her to work hard...
So that's a little glimpse into my life this weekend...
This is why I drink... Cheers!