It's Monday... which isn't all bad... family members are back at work and/or school... and...
I'm linking up with
Kati
and
Kate
to bring you the news of my weekend: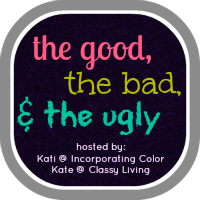 The Good:
My unexplainable sore knee felt better on Thursday.
The Bad:
My unexplainable sore knee felt
worse
on Friday.
The Ugly:
I worked out Thursday morning using Turbo Fire... apparently, exercising helps my knee feel better. Dang.
(FYI: That's not a picture of me... honestly.)
The Good:
I get a ton of comments on my blog.
The Bad:
A majority of them are from anonymous commenters... who appear to be spammers...
The Ugly:
I had to enact word verification... Sorry about that. I
despise
word verification... but I also hate getting twenty comments a day that are ridiculous... very affirming, but ridiculous, nonetheless. Hopefully this will help.
I actually got this one right the first time!!!
The Good:
It's NCAA tournament time! I love March Madness!! We always do grids... lots of fun.
The Bad:
Gonzaga is already out.. that's unfortunate. (But Kansas is still in it... I think I picked them to take it all!)
The Ugly:
We've eaten a lot of jelly beans.
Every year we taste test a lot of different brands during March Madness.
The Good:
We have plans in place to go visit Kati for Easter!
The Bad:
There are so many details to figure out and so much to do this week before we can leave town.
The Ugly:
I feel guilty about not being here to have Easter dinner with my parents... but... they say they are fine with that... so I will, eventually, get over it.
Hope your weekend was nice. What are your thoughts on word verification? I'm just curious...