It's time for me to tell you about my weekend... I'm linking up with
Kati
and
Kate
to bring you: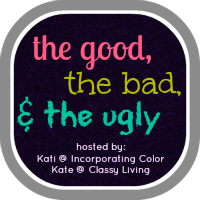 The Good: The Angsty Teen's concussion is getting better...
The Bad: It's only getting better a little every week...
The Ugly: Her activities are still limited... and her orneriness is still prevalent.
Weebles wobble... but they don't fall down!
The Good:
Winter drumline is over for the year! (I really enjoyed it... but it's nice to be done,)
The Bad:
I won't need to buy/use as many Groupons/Living Social deals for the Mpls/St. Paul area...
A delicious burger and sweet potato fries.... a tender ribeye steak.... and a lot of fun, unique beer at
The Herkimer micro brewery in Minneapolis...
The Ugly:
We probably won't get out of town on a hot date for a while...
Well, as far as St. Patrick's Day goes... It was a bust. We had tacos for supper. Why? Well, the Shepherd's Pie, Irish Soda Bread, and green brownies just seemed like too much work... (We will have them tonight...)
Especially since the Stern German was...
The Good: Helping me with the deep cleaning of the living room....
The Bad: Because his family is coming here on Wednesday for supper....
The Ugly: I thought we would get tons of work done on Sunday... but that doesn't happen when you don't get started until 4 pm... Dang. I just hated to stop the progress we were making to cook a big supper.
I was taking a Wine Break! He was cleaning the mopboards.

Hope your weekend was good... the Angsty Teen's weekend was extended with a Snow Day today.
I'm heading out in the storm to take the diabetic, geriatric, bariatric blind guy to physical therapy... better wear some serious winter gear.