I hope you had a wonderful Easter. Kati came home for a quick visit Thursday night, spent the night, and drove back to Omaha with the Angsty Teen in tow on Friday.
The Stern German and I drove down to Omaha just a little later than the girls. (Kati's trip home wasn't planned more than a day or two in advance... and we had already booked our non-refundable hotel down there for the weekend... So we kept our plan to go down for Easter.)
Today I'm linking up with
Kati
and
Kate
to bring you: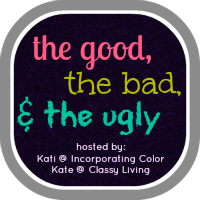 The Good:
On Friday I had a pretty good plan in place to pack up and head out of town...
The Bad:
My mom called me about 8:30 Friday morning and greeted me with, "Oh, I didn't think you'd be up..." (That definitely made me think that my "pretty good plan" was about to implode...)
The Ugly:
The diabetic, geriatric, bariatric blind guy thought he needed to go to Urgent Care because he had crackling in his ear...
Note: That same ear has been crackling for weeks... A doctor had already looked at it a while ago... and he said it would be fine... So, I was really not wanting to take the time out of my already maxed-out day to go to Urgent Care... But I know that about the time I say it's not necessary, he would wake up in the middle of the night while I'm out of town for the weekend... with an ear infection...
Got that all taken care of for my dad... and got Kati, the Angsty Teen, and the Stern German and went to the Ford dealership in our town... Read Kati's blg to find out how that all turned out...
The Good:
We had a lot of Forced Family Fun.
The Bad:
We ate a lot of food.
Clockwise from top let: Homemade peanut butter eggs... sort of. Ugly, but delicious!
A mini-pulled pork slider.. couldn't get a picture before the Stern German ate one.
The Stern German liked Runza... I think it's a Nebraska chain.
Cheesy Artichoke Flatbread with a balsamic drizzle... delicious!

The Stern German enjoyed the fruit... He definitely got a reaction from the Angsty Teen.
The Ugly:
Some of the places at which we ate were extremely disappointing.
We ate at two places where the food was definitely not very good. Dang. Guess we won't go back there...
I had such high hopes for Easter dinner at a fun place Kati and I had gone to once before. Unfortunately, our waiter and the kitchen staff may or may not have been hungover or high... or just not smart?... They just couldn't get their act together.
We probably should've just eaten Easter dinner at Chipotle... or had a glass of wine... or maybe both.
The weekend was nice. We had just the right amount of togetherness... sometimes that can be a little tricky, the perfect amount of wine, and a good amount of FFF.*
*Forced Family Fun