Hello! Happy Monday! It's time for me to link up with
Kati
and
Kate
to bring you the news about my weekend in: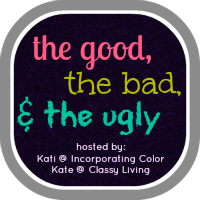 1. The Good:
My daughter,
Kati
, is creating a nice, adult life for herself in a place where she is content.
The Bad:
Not everyone allows their kids that freedom.
The Ugly:
My parents were
very
controlling and I was never encouraged to create my own life.
(Am I jealous of Kati? Maybe a little... not gonna lie... but mostly I'm excited for her... and proud of her.)
2. The Good:
Nothing about this following situation is good...
The Bad:
A man from my town who is a missionary pilot in Africa has been missing, along with the plane he was flying, for a over a week.
Jerry with his three kids
The Ugly:
I guess it is good that his plane's black box was
not
activated... That it means he didn't crash... but people think he may have had to land in unfriendly territory. (Yep, that sounds terrifying to me...)
If you are a praying person... please pray for Jerry and his wife, Gina, and their three kids... Nathan, Jessica, and Alyssa. Jerry's parents attend my church along with two of his brothers and their families.
Click here to read more about the situation. #findjerry
3. The Good:
The Angsty Teen's concussed state is better enough that she thought she could sit through senior high Sunday school
and
church yesterday... So I thought, for the first time in several months, I would get to go to church.
The Bad:
My mom called to say she needed me to bring her pee pads when I came for lunch... so I had to skip church and run to WalMart.
The Ugly:
Do you know how many people you see that you know at WalMart on a Sunday morning in my town???? Dang... I
intensely dislike
buying her pee pads for her...
Yes, someday I will probably have to buy them for myself... but not yet.... It's kind of embarrassing to buy them now.
4. The Good:
On Saturday the Angsty Teen had a great jazz band performance and was feeling great.
Look... she's wearing girl shoes... You don't see this every day!
The Bad:
Earlier that day she was playing with the dog... but forgot it was winter...
Yes, in Minnesota we have snow in mid-April this year.
The Ugly:
She looks a little like an Eskiho....
No, Angsty Teen, you aren't a weather confused whore... but... you
looked
a bit weather confused...
Hope you had a good weekend. Let Monday begin!