Happy Monday! I'm linking up with
Kati
and
Kate
to bring you: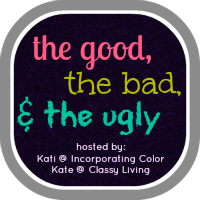 The Good:
As of yesterday...
I've been blogging for a whole year!
The Bad:
The learning curve has been pretty steep. (It's that whole "Old dog, new trick thing...")
The Ugly:
I really only know enough about blogging to be dangerous... but it's been a fun ride!
The Good:
On Friday night I went to a cooking class with a bunch of GREAT Minnesota Bloggers.
For a while my photos were all blurry... guess you should make sure you don't touch your lens with greasy fingers...
The Bad:
I stayed too late. It started at 7:00 pm... I left after 10:00 pm... & I had a 2 hour drive home.
The Ugly:
I was so tired driving home... I hate driving when I'm that sleepy.
The Good:
Saturday was a beautiful day! (in the 70s, warm, and not snowy!)
The Bad:
I didn't get to be out in it at all.
The Ugly:
I spent all afternoon cooking/baking & my kitchen was so hot... I missed the gorgeous day...
But I made a fantastic BLT Pasta Salad that we had made the night before at the class.
The Good:
My parents were able to get out and come to church with us yesterday.
Their outfits coordinated... the Angsty Teen's sweater is purple... it's hard to tell...
The Bad:
I had forgotten that my mother whispers
very loudly
... and frequently during church...
The Ugly:
My father had snagged a handful of wrapped hard candy from the candy dish before he came to church... and the only time he thought to unwrap a piece was when the sanctuary was ABSOLUTELY SILENT.
Rustle, rustle, rustle.
So loud!
The Good:
After about six pieces of candy, the diabetic, geriatric, bariatric blind guy hit a sugar high.
The Bad:
Then he crashed... and fell asleep... during church...
The Ugly:
He snores.
The Good:
I took a
two hour nap
on Sunday and
it was another beautiful day.
The Bad:
The Angsty Teen thought it was a great day to get out and drive "her" car.
The Ugly:
Since I wanted to get outside for a while I made her do some yard work with me before we drove. Actually, she was quite pleasant since she wanted to drive... so I guess there wasn't anything "ugly" about it!
It was a pretty good weekend. We all took our turns being tired and ornery... everyone else more than me, of course... especially the Stern German... but, we worked through it and we all survived... barely, but we survived!
Did you have a good weekend?