Happy Monday! I hope you had a nice weekend. I'm doing my usual Monday thing and linking up with
Kati
and
Kate
for: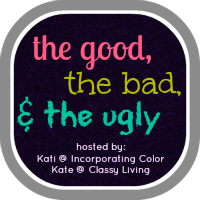 The Good: The Angsty Teen's Variety Show was good & the her outfits were fantastic!
Yay, for thrift stores... and basic sewing skills!
The Bad: The Variety Show was three hours long.
The Ugly: This empty car was running with the lights on in front of my house after the show.
When I went to the show... right across the street from my house... this empty, parked car was running. I just thought someone had run into the school for a minute to drop something off.
I saw one of the high school girls from the show come and get in it afterwards... She had to be there at least an hour early. So, her car ran for over
four
hours...
Oops... (Also, her friend, never to be confused with a rocket scientist, said, "I hope your battery isn't dead." Hmmmm....Hello? I think the car is
running
.)
The Good: I made this delicious Caesar Salad Pizza & Eggs Benedict this weekend.
Since the Stern German was hunting, I didn't have to fix any big meals.
The Angsty Teen is a good eater.
The Bad: By Sunday morning everyone in his hunting party had gotten a turkey...
The Ugly: The Stern German came home a day early from his hunting trip... dang.
I had just told her that her dad was coming home early....
The Good: We went out to celebrate Cinco de Mayo! But first I had a margarita at home...
Hey, Kati.... wish you'd been here!
The Bad: Not sure there's anything bad about this... well, I ate too many chips & salsa!
The Ugly: These shirts weren't for sale.
My favorite... well, actually it's the only place I'll go... Mexican restaurant had these great shirts for their workers for Cinco de Mayo... but they didn't have shirts for sale.
Such a great shirt...
The good news is that one of my favorite servers said that he didn't really like his shirt... and he said he would wash his shirt up and keep it to give to me when I come in next time!!! Yay, Luis. I love that shirt!
If they were actually selling them I would've bought one for
Kati
, too! (The Angsty Teen likes the shirts at the other place in town... which I refuse to go to because their food/margaritas are not good...that say "One tequila, two tequila, three tequila, floor.")
Happy Monday! How did you celebrate Cinco de Mayo?