All of a sudden I realized that even though the weekend isn't over due to the Memorial Day holiday... it is Monday... time for me to link up with
Kati
and
Kate
to bring you: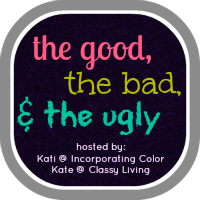 So, here's the scoop:
The Good: We didn't have to pay to get into the Angsty Teen's choir concert on Friday night... and it was shorter than normal.
No choir robes for this concert!
The Bad: Even though the school calendar, the online district calendar, and the Angsty Teen all said the concert started at 8:00 pm.... it did not.
The Ugly: The concert actually started at 7:30...
so we walked in 20 minutes late... and missed most of the stuff the Angsty Teen's choir sang. Oops...
But we saved $15...
And...
The Good: We were able to tour the brewery that makes the Stern German's favorite beer.
Haha... It's pretty funny that his favorite beer is made by Surly Brewing... and is called
Furious
.
The Bad: We also ate at a great Thai restaurant... The Bad? It's 1 1/2 hours away!
Nope, neither the brewery nor the restaurant were overrated!
The Ugly: I really liked all the beers I tasted... all five of them.
Dang... these are pricey beers... I can't afford this brand!
Plus...
The Good: We had The Grand Boys yesterday instead of our regular Monday time.
The Bad: They were here for about 6 1/2 hours instead of 2 1/2... that's kind of a long time.
The Ugly: We tried to bake cookies...
a. The Angsty Teen's M&M bag-opening skills are severely lacking.
b. Measuring is good to learn how to do...
c. Bottom row: Hey, buddy... this is why you're fat... just sayin'. (Isn't he soooo cute??)
Also...
The Good: I'm planning a road trip.
The Bad: It's not the road trip I had hope/planned to take in June... that's not good news.
The Ugly: My parents have some dear friends up north where they used to live whose health in quickly deteriorating... and they would like to see them one last time... and this is the only week that works for the friends.
We'll be driving from nearly the southern state line up to that northern-most chimney...
The Angsty Teen and I took my geriatric parents up there two summers ago to visit friends. It is a nine hour drive... one way... Both of my parents are on diuretics... lots of stops...my dad is legally blind... it was pretty much exhausting...
This time will be even harder because my dad isn't as mobile or as able to help himself in the bathroom as he was two years ago... Dang.
So...
that's the short version of my weekend so far. This morning we have a Memorial Day parade... and the Angsty Teen will be marching in the band.
That's always fun... although it's supposed to be in the low fifties for a temperature... and maybe rainy... yay...