I'm linking up with
Kati
and
Kate
to tell you about: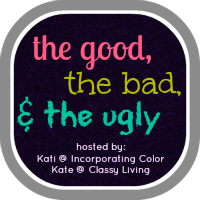 The Good:
The Angsty Teen made Symphonic Band.
It's our best high school band... and she made FIRST CHAIR!!!
The Bad:
She beat out the more-than-slightly-conceited senior guy who is her section leader...
That's a lot of French horns!
Side note: This guy has been pulling the girls aside & telling them they need to respect him and his position of leadership... I could be wrong... but I don't think that's how it works...
The Ugly:
She had to practice
a lot
to make it... and now she has to continue practicing a lot to keep up... and she practices in the living room because she cannot find her music stand...
Really Ugly:
See the arm of that striped chair in the bottom of the second picture? That's my chair.... That's where I sit in the living room... She is too close to my chair.
The Good:
The Stern German left town for the week and he left a happy man... because he got his favorite thing!
The Bad:
It was just his favorite supper: grilled steak, cheesy mashed potatoes, and his favorite beer.
The Ugly:
Now I feel like we have to have this meal more than once a century. (Especially if the Stern German with the High Cholesterol's life insurance policy is paid up!)
The Good:
We were asked to watch the Grand Boys, at the last minute for a short time Friday afternoon.
The Bad:
I'd already invited a friend over for a glass of wine and the Angsty Teen had friends over to work on a graduation scrapbook for a friend... but since we rarely get asked to watch them other than our Monday night time... I hated to say no!
The Ugly:
It was fun... but a little crazy... and the Angsty Teen's Burn Book left glitter all over my house!
And
there is glitter all over the front sidewalk...
Good thing the Stern German is out of town... because now it really looks like a girl house!