It's Monday... time for me to line up with
Kati
and
Kate
to bring you the highlights and the low points of my weekend in: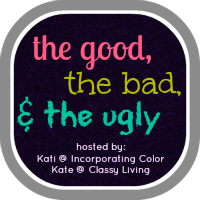 So, let's get started:
Also...
The Good:
The Angsty Teen figured out she didn't like spray whipped topping as much as she thought.
The Bad:
She figured this out by letting me squirt it in her mouth...
The Ugly:
She showed me the whipped cream... pretty sure the last picture is a more accurate depiction of her emotional state at the time of the aforementioned whipped cream activity...
Also....
The Good:
I created a delicious Saturday brunch drink... (OJ, Mango Sorbet Vodka, & Diet Dew).
The Stern German and I did a landscaping project together and didn't kill each other.
I made delicious BBQ ribs for supper.
The Bad:
We had a handbell choir at church on Sunday.
(Handbells are not my favorite things... but this was done by kids from our church so it was kind of cute.)
The Ugly:
One little girl had a bell that wouldn't ring... but she kept trying.... Bonus points for perseverance.
That pretty much sums up my weekend...
I'm trying to figure out this trip I'm taking my parents on later this week... It seems overwhelming right now... and it will probably seem overwhelming the whole time we are gone... Dang...