The weekend is over... I'm linking up with
Kati
and
Kate
to bring you: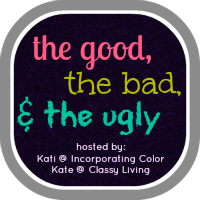 The Good: The Angsty Teen woke up headache-free after a terrible headache/ER visit on Friday.
The Bad: The marching band had a parade competition after only three half days of practice with 20 new freshmen... not much time to learn to play AND march.
She figured out how to do the Band Hat Braid on herself...
Looking like a little Amish girl...
The Ugly: The Angsty Teen had to step out after marching two blocks. Those damn headaches...
Here's a few more things about my weekend.
The Good: The Stern German and I survived planting nearly 40 hosta plants our neighbor gave us.
I love free stuff!
The Bad: Apparently these lines aren't as clear as they looked...
Maybe their handicapped tags are for mental handicaps...
The Ugly: This haircut. It's an older guy with a really long, curly mohawk. Not a good look.
We had a nice day on Father's Day... I'll tell you about that another time.
Hope your Monday is great. What am I saying? I hope my Monday is great!