Happy 4th of July! It's been an... um... interesting year politically... but...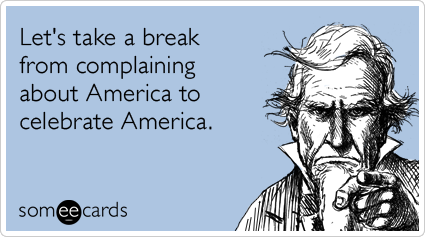 I'm not celebrating the holiday with extended family... not even with much immediate family... just with the Angsty Teen... only she's mostly going to spend time with the friend who rode to Nebraska with us.
We're at camp and senior high camp doesn't begin until Friday. I'll be hanging out with my friend in the camp kitchen. The Stern German will be at home hanging out with his dog. And, Kati? Well, she might choose to just hang out with herself. That sounds nice. I would like to hang out with herself, too!
Do you read Kati's blog? I liked her post yesterday about "Amurrica" and some things that make this country great. Read or reread it
here
.
At least we aren't getting together with any extended family... not that I have strong opinions about some of them or anything...
Yeah, that definitely reminds me of family...
And, if you enter a hotdog eating contest to celebrate the 4th of July... may your hotdogs be pee-free...
(Yes, this is kind of dumb... but, slightly humorous.)
Enjoy your holiday, be safe, make good choices (sound like a mom, huh?)... and here's a little holiday advice for you: